The Best Long Island Masonry Contractors
Crafting Strong, Sturdy Structures to Last a Lifetime
Creating Custom Homes & Office Spaces of Your Dreams
John J. Contracting specializes in masonry services. As a top-rated Long Island custom home builder, masonry is a critical component to your home or business's foundations. Masonry is a time-honored tradition that incorporates brick, stone, and concrete materials into your construction project. Mortar is used to bind the stones together, which creates a super-strong structure. Our masonry experts incorporate time-honored tradition with the latest in modern technology to yield a classic, yet beautiful, result. Call us today to get started!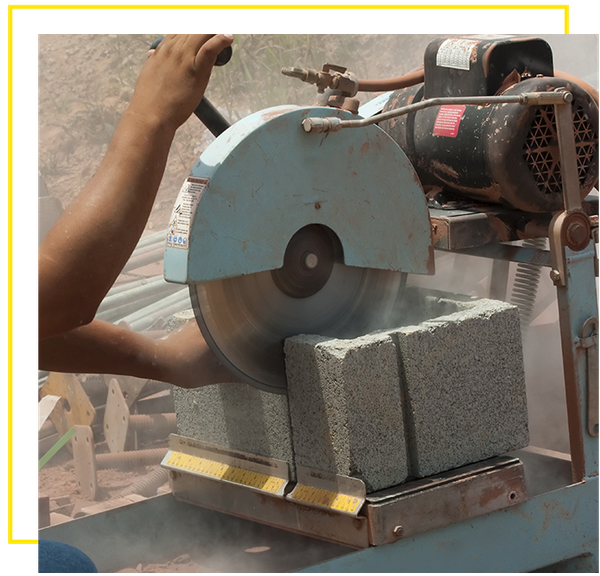 BENEFITS OF MASONRY IN LONG ISLAND
Extremely resistant to fire, being made out of stone

Low maintenance

Provides a natural acoustical sound barrier

LEED-friendly

Comes in many colors & designs

Incredibly strong to hold up against natural disasters

Durable & long-lasting

Increases thermal mass of buildings

Is environmentally-friendly

And so much more!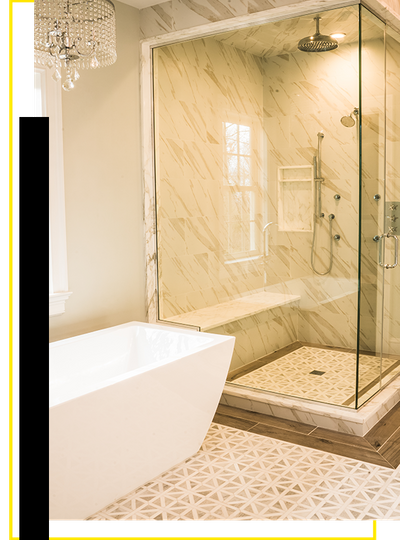 The art of masonry has been around for millennia as humans searched for a building material that was strong, durable, resistant to fire, and easy to work with. From the Great Pyramids of Giza in Egypt to the Roman Colosseum and the Taj Mahal, these ancient buildings are marvels that have withstood the harshness of time. They are awe-inspiring to see and breath-taking in their scope. To this day, no one is sure how the Great Pyramids were even built. However, these beautiful, mysterious buildings continue to inspire modern-day masons.
John J Contracting is a Long Island masonry contractor who believes in creating art with every masonry project we take on. From building a retaining wall to pouring foundations and building your home or office's walls, our craftsmanship is superb and hard to beat. Our team has years of experience in working with all types of materials, such as brick, stone, concrete, marble, granite, limestone, cast stone, and more. This highly-durable form of construction is sure to leave you with a structure that not only will withstand the test of time but will be aesthetically pleasing as well. Below, we'll take a look at some of the many benefits of masonry that masonry contractors in Long Island offer. Contact us today for a free quote!
BENEFITS OF MASONRY CONTRACTORS IN LONG ISLAND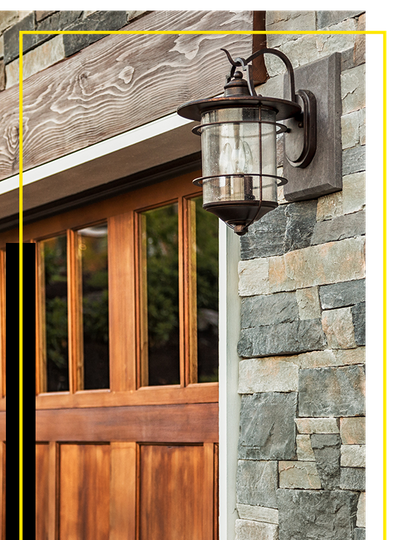 Fire-Resistant
Many of us don't pay attention to fire ratings for buildings, and we would have no idea what our home is even fire-rated for. This is because while fires happen, they are more infrequent now than hundreds of years ago when an uncontrolled fire could sweep through a town or city and literally destroy it overnight. As such, we don't often think about our homes or offices burning, but it does happen, and it's important that you remain prepared.
Concrete masonry holds the highest flame spread classification with a Class A rating. This means that concrete masonry will naturally withstand high temperatures of up to 1,000 degrees Fahrenheit and contain fires. This is why you will normally see fireplaces made from some sort of masonry, frequently brick or stone.
Incredibly Strong
Another reason that masonry is chosen for buildings is that it is incredibly strong. Most of us know the folktale of the Three Little Pigs who each chose a different building material for their home. One chose sticks, one chose straw, and the other chose bricks. Only the brick home could stand up to the Big Bad Wolf. This lesson remains true to this day. Stone is naturally strong, able to stand up to everything that Mother Nature can throw your way, including wind, rain, snow, heat, hail, frost, humidity, and UV rays. Because it is so strong, it lasts a really long time.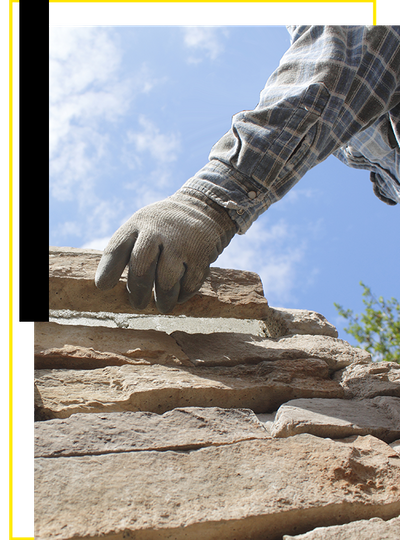 Variety
As you've probably seen, there are many different types of stone that you can choose from for your building project, from brick, marble, and granite to concrete and limestone, you can make almost anything out of masonry products that will last. In addition, concrete can be colored, which provides the home or business owner with the ultimate in variety and tastefulness. Many shapes can be created, either during the concrete mixing process or from shaping and chiseling to create beautiful and stunning works of art. You can use masonry to create a rustic look or a modern, elegant look. John J Contracting notes that the sky's the limit for masonry applications.
Longevity
As from the examples above, you can see that masonry buildings last an extremely long time. In fact, it can be hard to destroy these types of buildings even when you want to. Just ask any local demolition contractor which is easier to tear down: masonry or wood structures? In fact, masonry boasts the longest lifespan of any other building type, taking Mother Nature centuries to break down using rain, snow, wind, and UV rays. When you think about it, you are taking materials that Mother Nature has already broken down, sand and rocks, and combining them with water and aggregate to make an even stronger substance to stand up against Mother Nature's wrath. Quite ironic.
Environmentally-Friendly
Since concrete and stone are made from elements of the earth, it is extremely environmentally-friendly. It's also 100% recyclable, as our above analogy points out. Masonry buildings can be broken down and then restored using the same component parts, not harming the environment in any way, and not taking up landfill space. There is very little waste in the process of concrete and masonry manufacturing, especially when you think about plastic packaging materials that you throw away every day. While it does take a minimal amount of energy to mix and pour concrete (or manufacture) when compared to other building materials, overall masonry products are sustainable and green. THE ART OF MASONRY
As we've seen, masonry is the use of concrete materials, such as stones or bricks, to build a structure, for example a house or a commercial unit. At John J Contracting in Long Island, we are experts at masonry works, and we handle every construction project we undertake from start to finish. Whether it's a new construction or an addition to an existing building, we will do it right for you.
If you've decided to build a concrete home of brick or stone, we can only say that you've made a great choice. From the main structure to your patio, driveway and walkway, we'll handle everything within your given time frame and budget. We guarantee your satisfaction. We want you to enjoy your new masonry project for years to come.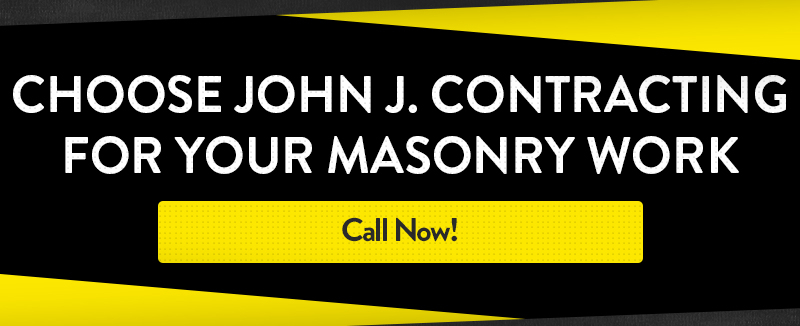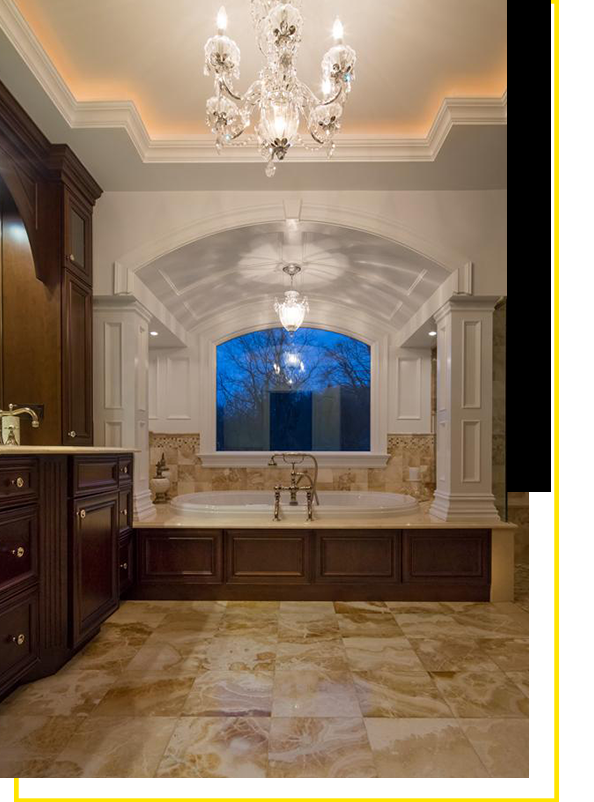 WHY CHOOSE JOHN J CONTRACTING AS YOUR LONG ISLAND MASONRY CONTRACTOR
John J Contracting is a top-rated Long Island masonry contractor. We offer amazing custom residential and commercial masonry solutions for your needs, whether you are building a fountain in your front yard, a wall to serve as a boundary around your commercial property, or building a shop for your automotive hobby. Our home remodeling company has the solution for you. In addition, we offer a wide variety of residential and commercial remodeling services, from kitchen and bathroom remodeling to custom home building. We can handle the entire project for you from start to finish.
John J Contracting has over 20 years of experience helping homeowners and businesses create spaces that are not only comfortable and aesthetically-pleasing, but that also add value and last a long time with very little maintenance. Our expert craftsmen provide the best of classic architectural design with modern technology and looks to achieve your unique structure. Our home remodeling professionals will take a look at your home and discover what you are seeking in a home or office remodel or a new construction build. Then we'll draw up plans for your approval, using CAD design presentations. We work expeditiously to ensure our projects are on-time and on-budget. When looking for a masonry contractor in Long Island, call us today!
Contact Us To Get Started