Our Services
Top Rated Local® Contractor
Thanks to our years of experience, our dedicated and highly qualified team and our constantly updated work techniques, John J Contracting does not limit itself when it comes to construction. Building or renovating a house needs to be done in various phases. We make sure to undertake each and every phase so that you don't have to look around for other contractors.
John J Contracting is proud to offer the Long Island community high-quality contracting and remodeling services. From custom interiors to exciting exteriors, our team of general contractors does it all. We have the skills, experience, and equipment needed to completely reimagine your living and workspaces.
We don't realize how much time we spend in the bathroom until we no longer feel comfortable there. A bathroom remodeling project is an easy way to make this space as appealing as the rest of your home. Utilizing your existing space, we'll transform your bathroom into a space that feels practical, modern, and comfortable. After a bathroom remodel from our general contractors, you'll enjoy every minute you spend in your bathroom caring for yourself. A bathroom remodel is also a great way to increase the value of your home, making it one of the home improvement projects with the highest returns on your investment.
In any home, you'll find that the kitchen is a natural gathering space. It's where families and friends gather to share recipes, meals, and memories. Make sure that your kitchen is as inviting as you want it to be and work with our contractors to remodel your kitchen. Together, we can design a space that's functional but still makes it easy to entertain. We'll work with you to select new countertops, cabinets, and appliances and find an attractive and practical way to arrange them. After a John J Contracting kitchen remodel, you might find it hard to spend time in any room beside your kitchen!
Sometimes all it takes to transform the look of your home is a fresh coat of exterior paint. But when it comes to the interior of your home, sometimes new paint just isn't enough. In moments like these, it might be time for a total interior renovation. Whether you need to update your interior with the latest design trends, or just want to reimagine the layout of your space, our contractors can help you bring your interior to life. From floor to ceiling, we can help you choose the finishes, materials, and colors that best capture your vision and help transform your house into a home.
When a model home community is just too pedestrian for your tastes, when you can't find a home on the market that sparks your interest, or when you're just ready to build the home you've always dream of, it's time to work with a custom home builder like John J Contracting. We've worked with families in Long Island for years to help them create totally custom homes that perfectly suit their tastes and needs. Our general contracting company handles every aspect of the custom construction process for you. From initial designs to working with city offices, breaking ground, and the finishing touches, our contractors do it all.
Masonry is a timeless art form, utilizing classic materials like bricks and stones to achieve incredible architectural effects. As experts in the practice of masonry, the team at John J Contracting can help add stone or brickwork to your home, commercial space, or other building. From new masonry work to repairs and touch-ups, we have the capabilities to do it all. Working with a professional masonry firm like ours is an easy way to ensure that your construction will be beautiful and durable, maintaining its appearance for decades to come. From walls and chimneys to pathways and patios, our team can pave the way to a new look for your home or business!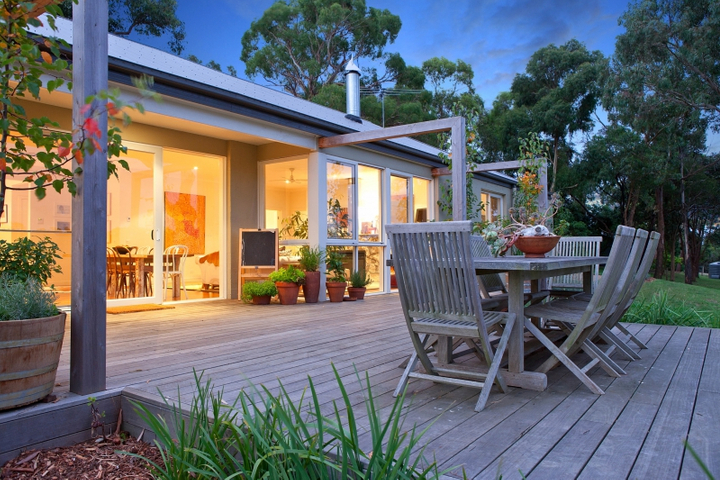 Deck & Patio Construction
We would all love to spend more time outside, but unless you've got a nice place to entertain, even the nicest landscaping isn't enough to draw you outdoors. A beautiful new deck or patio for your Long Island home is just the thing you need. As experienced contractors, we know exactly what it takes to design, construct, and finish a new outdoor entertainment space. We use premium materials and proven construction methods to produce a deck or patio that's sure to last for years. We'll work with you to create a design that meets your needs and budget, utilizes your preferred choice of materials, and even uses stains and finishes that compliment the rest of your home.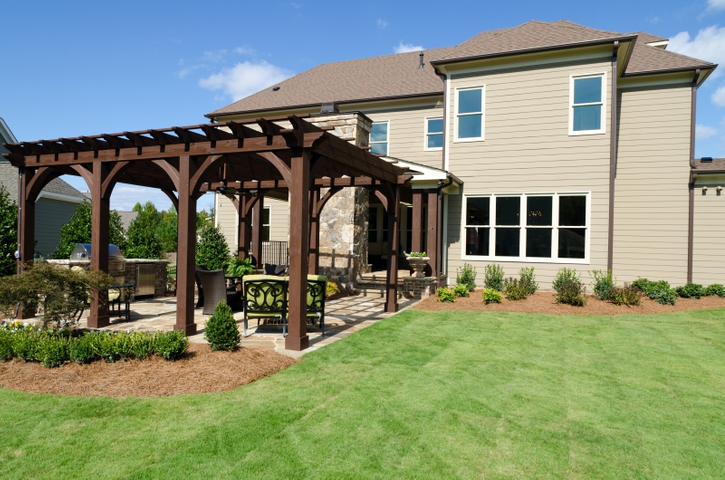 Pergolas, Gazebos, & Cabanas
While you're beautifying your outdoor living and entertainment spaces, why not consider adding a new feature like a pergola, gazebo, or cabana? These wonderful structures make for natural gathering spaces in gardens and yards and are a great way to beat the heat of those Long Island summers. Structures like these maximize your outdoor space, creating new areas for outdoor furniture and outdoor kitchens. They can be free-standing, or connected to your home to offer weather protection in your yard. Like all of our work, we use the best quality materials and time tested construction methods to create outdoor structures that are as functional as they are fashionable.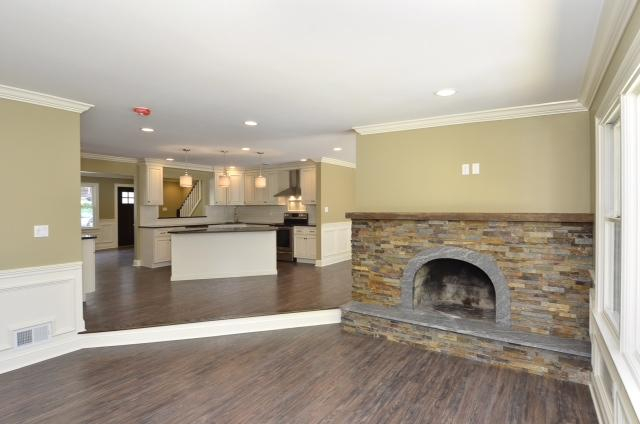 Fireplace Installation
When you're trying to create a certain ambiance or mood in a space, there are few features better-suited to the job than a fireplace. While the end result is always the same, you'll have your choice of a variety of options like gas, electric, or wood fireplaces. Fireplaces are a great way to create a natural gathering space for your living or family rooms, and can even be a great addition to master bedrooms and studies. Our clients love how much value a fireplace adds to their home. As accomplished home builders, John J Contracting knows how to safely and effectively install a new fireplace into your Long Island home.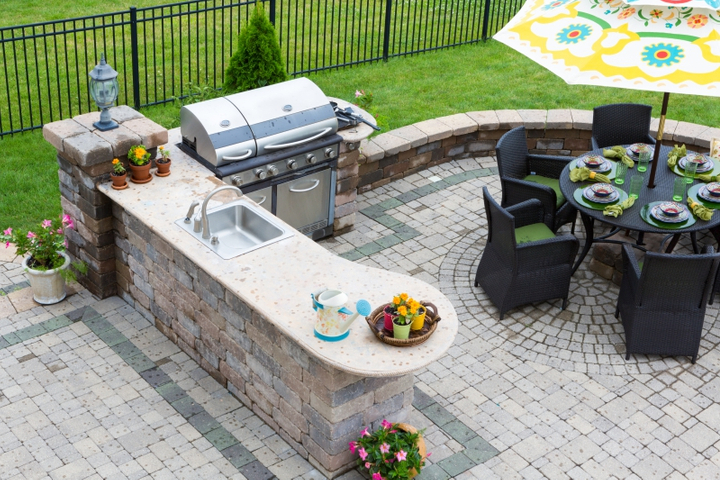 Built-In Barbecues & Fire Pits
There are few things more enticing than a backyard BBQ or enjoying those long summer nights next to the warmth of a fire pit. Now you can enjoy either or both of these great outdoor features thanks to John J Contracting. Rather than wheeling an old BBQ grill out of the garage and onto the back patio, why not enjoy one built into your backyard landscaping? We can make a lasting enclosure for your built-in barbecue that makes it like your own personal outdoor kitchen. When you're done cooking, you can kick back and relax by the fire with a new free-standing or built-in firepit.
It's hard to imagine the effects that fire damage can have on your home or business and your sense of safety and security. If your building has been damaged by fire, it's in your best interest to get it inspected and addressed as soon as possible. Thanks to our extensive background in new construction and remodeling work, we can help you mitigate any damage to your building and save as much of the original structure as possible. We'll use advanced equipment to test for hidden structural damage and prevent the growth of mold. We'll then carefully restore your building so it's good as new.
Whether you're building a brand new commercial space, remodeling an existing one, or simply adding an addition, you'll want the expertise of John J Contracting on your side. We are happy to accept bids on any kind of commercial construction project. We'll collaborate with other contractors and sub-contractors, meet with your architects, and even work with the city to ensure that your commercial construction project goes as smoothly as possible. From the exterior to the interior, we're ready to work on every part of your commercial space to make sure it meets your needs.
Quality Contracting Services in Long Island When You Need Them
A fixture in the Long Island community, John J Contracting has been helping home and business owners create fabulous new buildings for more than 20 years. Are you looking to remodel your spaces? We would like to hear from you. Please contact us to know more about our services. We offer free estimates, quick responses, and friendly, professional contracting services.
Contact Us to Get Started