Kitchen Remodeling
Top Rated Local® Contractor
One-Stop-Shop Custom Home Builders On Long Island
There's a reason they say that your kitchen is the heart of your home. When you think about all of the events that happen in your kitchen, from nourishing your family and having coffee with friends to spending family time together, talking about your day and playing board games, the kitchen truly is a center of activity. Therefore, having a beautiful, comfortable, cozy kitchen that fits you is essential.
John J Contracting offers home remodels to residents on Long Island. For over 25 years, we've been renovating kitchens, bathrooms, living spaces, basements, and more. Our superb team understands the value of a unique space all your own that suits your needs and wants. Our team handles the entire project for you, from the planning and design phases to the actual build phase. Our mission is to ensure you are 100% satisfied with your custom kitchen remodel in Long Island. Give us a call today for a free estimate!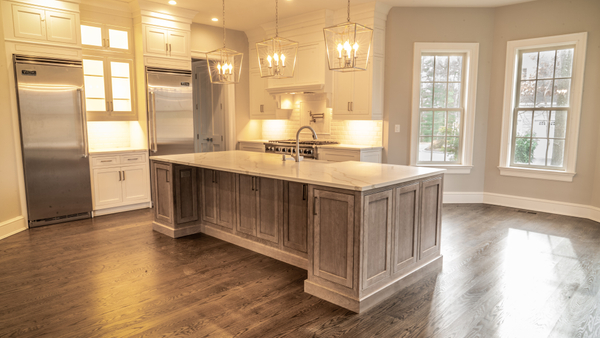 REASONS TO CONSIDER A KITCHEN REMODEL ON LONG ISLAND
Increases your home's value

Can have the kitchen of your dreams

Can design for energy-efficiency

Can better suit your lifestyle

Need to have a kitchen for aging-in-place

You want to entertain more

You want more family time

You want to cook more homemade meals

And so many more!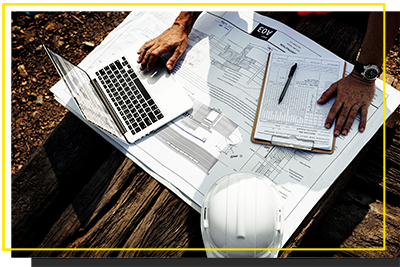 If you cook the majority of your meals at home, you spend a lot of time in your kitchen. In fact, if you spend three hours a day in your kitchen, preparing and eating, you will spend one-eighth of your life there. For most of us, that's a big chunk of time!
John J Contracting on Long Island understands the importance of your kitchen. It's the heart of your home in so many ways for the entire family. Memories are made in the kitchen, from making your children's birthday cake and singing happy birthday to having a huge family gathering for Thanksgiving and Christmas. You want to be comfortable in your kitchen, and you want it to be beautiful.
After all, there's something to be said about sitting at your kitchen table early in the morning, drinking coffee and reading the news, in a beautiful space all your own. Our kitchens designers and planners are ready to bring your kitchen remodel for your Long Island home to life. Below, we'll dive into some of the reasons to consider a home remodel for your Long Island home. Contact us for a free consultation!
BENEFITS OF A LONG ISLAND KITCHEN REMODEL

Have the Kitchen of Your Dreams
Most homeowners have a vision of the kitchen they want in their home. From granite countertops to more counter space and storage, most people have at least one change they want to make to their existing kitchen. Since you spend so much time in your kitchen, you want it to be enjoyable. After all, when you wake up in the morning and stumble down the stairs to your kitchen to make coffee, you want to feel unimpeded, at home, and be surrounded by beauty to start your day.
John J Contracting will work with you to craft and perfect the kitchen remodel of your dreams for your Long Island home. From installing a custom kitchen island to replacing all of your kitchen appliances with energy-efficient ones, we've got all of your kitchen remodel needs covered. Call us today for a free consultation.

Can Entertain More
Most of us love family get-togethers and evenings with friends. It's a chance to enjoy a meal together and catch up on life. We get to spend time with our nieces and nephews and watch the stars come out on a beautiful August night on Long Island, or snuggle in the cozy kitchen over hot chocolate in the winter. When you have space and an open floor plan for your kitchen, the opportunities open up to its uses.
John J Contracting has been remodeling kitchens on Long Island for over 25 years. With our experience and dedication to workmanship and customer service, we can make your kitchen be the hubbub of activity you've always wanted. Contact us today to get started!

Increases Your Home's Value
There's no doubt that kitchens can sell a home from a buyer's perspective. When potential buyers walk in and see a fully-remodeled kitchen when they are shopping for Long Island homes, complete with granite countertops, beautiful hardwood flooring, stainless steel, energy-efficient appliances, and a kitchen island with a sink and a dishwasher installed, most will be salivating. Custom kitchens not only add value to your life, but they also add value to potential homebuyers' lives as well. Odds are, you will more than get the value back out that you put into a custom kitchen remodel for your Long Island home.
John J Contracting began 25 years ago remodeling kitchens and bathrooms on Long Island. Today, we've expanded to include custom-built homes, interior renovations, masonry work, and commercial remodels. We love to bring homeowners' vision to life and see them over-the-top happy in their new kitchen. Call us today for a consultation!

Can Better Suit Your Lifestyle
As we age, our needs change. When you first bought your home, you may have been single or just newly married. Now, you have a couple of kids, and your kitchen has quickly become tiny. Or, you are now older, and the shelves a bit too high for you to reach, so you want a custom kitchen that is made to accommodate your mobility limitations. Or, you want an eat-in kitchen so that when you host a playdate for toddlers, you have a bar area for the kids to eat in and an adult area for you to be able to talk with minimal interruptions. There are so many details that when added together can make your kitchen cumbersome.
By investing in a kitchen remodel by John J Contracting for your Long Island home, you can eliminate all of these little things that have become glaring issues. You can add in a breakfast nook, a bench seat, a small dining area, or a custom kitchen island. You can lower your shelves and install more pull out drawers. By designing a kitchen, the only limit is your imagination. Call our home remodeling company today for a kitchen remodel consultation!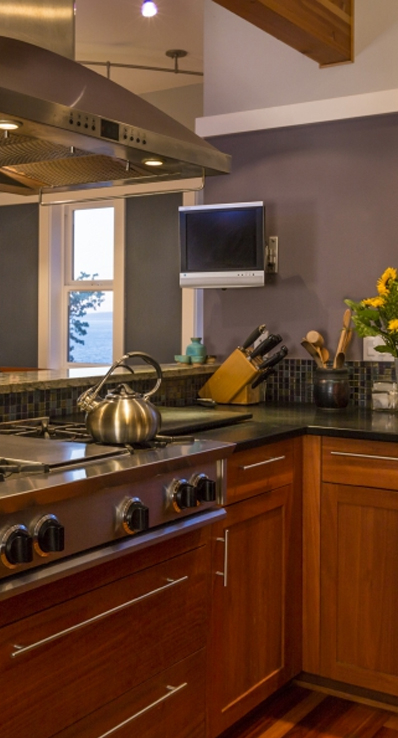 WHEN YOU'RE TIRED OF THE OLD LOOK... SPICE IT UP!
Today the internet lets you discover thousands of kitchen designs, each better than the next. If you're planning to revamp your kitchen, talk to our team at John J Contracting. We do kitchens just like in the magazines!
Our remodeling can include:
• Contemporary design with sleek furniture and appliances
• Minimalist design
• Space optimization for smaller kitchens
• Wooden, metal or granite kitchens
A remodeled kitchen is a great thing to do for your home because:
• An improved kitchen increases the resale value of your home
• Remodeling allows for modern, trendy designs
• A remodeled kitchen can provide you much better storage facilities
Looking for a great company to make your kitchen fabulous? Call John J Contracting today! Why Choose John J Contracting?
When it comes to choosing a kitchen remodeling company in Long Island, you want a home remodeling contractor you can trust, who has years of experience and satisfied customers under their belt, and one who can help you turn an idea into reality.
John J Contracting is that kitchen remodeling contractor. We serve you anywhere on Long Island, striving every day to not only bring your dream kitchen to fruition, but to make the design and remodeling process as easy as possible on your already busy life. Our experience, know-how, vision, and customer service from start to finish sets us apart. Call us today!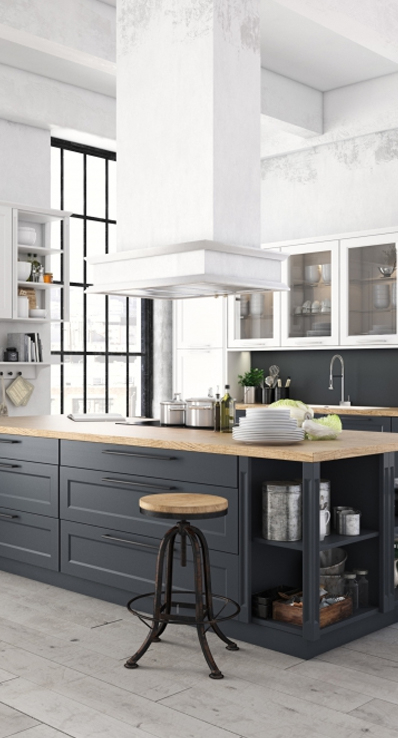 CHOOSE JOHN J CONTRACTING ON LONG ISLAND FOR YOUR KITCHEN REMODELING PROJECT
John J Contracting has been crafting custom kitchens for over 25 years in Long Island. During our initial consultation, we'll come to your home and ask some important questions so we can get a sense of your needs, wants, and vision for your space. Afterwards, we'll draw up our design ideas and get your valuable feedback on them. Once your custom kitchen design has been finalized, our home remodeling company will enter the planning phase. Once construction begins, we'll keep you updated on the progress, as well as any changes you might want to make. You'll be able to see your Long Island kitchen remodel take shape before your eyes.
When you partner with our kitchen remodeling company, you can rest assured that your custom kitchen will meet your needs and be everything you've always wanted. We use the highest-quality materials and ensure every detail is perfect. We work intimately with you to ensure you are 100% satisfied. Our design and construction team will perform a final walkthrough with you to see if there are any touch-ups. We warranty our work in case a few months down the road you have a concern.
John J Contracting is your choice for kitchen remodeling on Long Island. Call today for a free consultation!
Contact Us to Get Started